Dr. Maddineni Sudhakar
Profile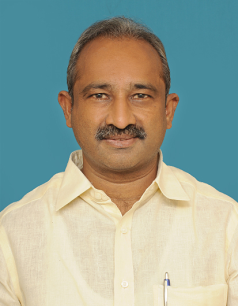 Designation: Associate Professor (Maths)

Date of Birth:30-07-1969
Date of Joining:06-1-1996
Teaching Experience:28 years since 1991
Presently working as Associate Professor, in the Dept. of M&H, Since 1996 IN RVR & JCCE.
Research Interests: Ordinary Differential Equations, PDE, Numerical Methods and Fluid Dynamics.
Qualifications:
M.Sc., IIT Bombay, Mumbai, Maharshtra, India
M.Phil., Madurai Kamaraj University, Madurai, Tamil Nadu, India
Pursuing Ph.D from ANU (2013-14)

SR. Program Officer: in NSS since 2003(15 years)
Member:

NSS Advisory Committee of ANU.
NSS ADVISORY COMMITTEE OF ACHARYA NAGRJUNA UNIVERSITY, Since 2011.
CO-ORDINATOR BLOOD DONORS CLUB OF ACHARYA NAGARJUNA UNIVERSITY.
IN-CHARGE NSS CO-ORDINATOR IN GUNTUR DIVISION UNDER ANU.
Organizer:
VOLUNTARY BLOOD DONORS CLUB (CREATED 100% AWARENESS AMONG THE MALE STUDENTS TOWARDS BLOOD DONATION
AND DONATED 5600 STUDENTS THROUGH OUR CLUB DIRECTLY TO THE NEEDY).
Service Ativities:-
Donated his "O negative blood" 52 times since 1995 - Frequent Blood Donar.
Nodal Officer:
DISTRICT YOUTH PARLIAMENT-2018
Nodal Officer:
SWACHH RAILWAY GUNTUR DIVISION -2018
Nodal Officer:
SWACHH BHARATH SUMMER INTERN -2018 (SBSI-2018)
Awards & Appreciations:
81 number in National/International/State/University and District level in social service activities.
Few Landmarks Received:
RECEIVED PRESTIGIOUS MOTHER THERESA SEVA RATNA AWARD-2018 FROM THE FORMER GOVERNOR OF TAMIL NADU AND FORMER CM OF AP SRI KONIJETI ROSAIAH AT RAVINDRA BHARATHI, HYDERABAD ON 27-08-2018 ON THE OCCASION OF 108TH BIRTH DAY OF MOTHER THERESA.
RECEIVED BEST TEACHER AWARD FROM YOUTH AFFAIRS AND SPORTS GOVERNMENT OF ANDHRA PRADESH, ON THE OCCASION OF TEACHER'S DAY & INTERNATIONAL LITERACY DAY ON 08-08-2018.
RECEIVED PRESTEGIOUS HONOURABLE GOVERNOR AWARD 2017-18 FROM THE HANDS OF HON.BLE GOVERNOR OF ANDHRA PRADESH AT RAJBHAVAN, HYDERABD ON 14-06-2018 FOR BLOOD DONATION (DONATED BLOOD 52 TIMES AT IRCS BLOOD BANK, A.P.)
FELICITATED AND AWARDED ROTARY EXCELLENCY IN SOCIAL SERVICE BY ROTARY CLUB OF GUNTUR DURING ITS PLATINUM JUBILEE CELEBRATIONS ON 24-03-2017.
RECEIVED AWARD FROM VICE - PRESIDENT AND SECRETARY OF INDIAN RED CROSS SOCIETY , AP. ON 9TH APRIL, 2017 AT Z.P. HALL, GUNTUR FOR ACTIVE INVOLVEMENT IN BLOOD DONATION ACTIVITIES TO INDIAN REC CROSS SOCIETY.
RECEIVED UGADI STATE LEVEL PURASKAR 2016 ON 08-04-16
RECEIVED APPRECIATIONS AND AWARDS FROM OUR CHIEF MINISTER SRI NARA CHANDRA BABU NAIDU ON 12TH OCTOBER, 2016 FOR ACTIVE INVOLVEMENT IN KRISHNA PUSHKAR-2016 ALONG WITH AWARDS FROM D.I.G. GUNTUR REGION AND S.P. OF GUNTUR.
RECEIVED NATIONAL LEVEL VISHISTA PURASKAR - 2016 WITH MANGALA SASANAM FROM SRI SRI SRI CHINA JIYER SWAMY AT JIVA PRANGANAM, SHAMSHABAD, HYDERABAD ON 29-10-2016 WITH Rs.30,000/- HONORARIUM ON THE OCCASSION OF SWAMY'S 60TH BIRTH DAY CELEBRATIONS. - 2016.
GUINNESS BOOK OF WORLD RECORD HOLDER (2012-13) - INTERNATIONAL LEVEL ON 06-11-13.
NATIONAL LEVEL INDIRA GANDHI BEST NSS PO AWARD (2013-14) FROM HON.BLE PRESIDENT OF INDIA AT RASHTRAPATHI BHAVAN, NEW DELHI, ON 19-11-14 WITH Rs. 20,000/- HONORARIUM.
NATIONAL LEVEL INDIRA GANDHI BEST NSS UNIT AWARD (2013-14) FROM HON.BLE PRESIDENT OF INDIA AT RASHTRAPATHI BHAVAN, NEW DELHI, ON 19-11-14 WITH Rs. 70,000/- HONORARIUM
RECEIVED FOUR STATE LEVEL AWARDS FROM SRI NARA CHANDRA BABU NAIDU, CHIEF MINISTER OF ANDHRA PRADESH (2011, 2012, 2014 & 2016)
STATE LEVEL NSS BEST PROGRAM OFFICER AWARD (2011-12) FROM THE C.M. OF A.P.
STATE LEVEL BEST CITIZEN AWARD (2010-11) FROM V.C. OF ANDHRA UTY.
NTR SEVA PURASKAR AWARD (2010-11) FROM GOVERNOR OF A.P. ALONG WITH SRI NARA CHANDRA BABU NAIDU AT RAVINDRA BHARATHI, HYDERABAD.
RECEIVED SIX STATE LEVEL NTR EXCELLENCY AWARDS CONTINUOUSLY SINCE 2011 AT HYD.
RECEIVED NATIONAL AWARD FROM SHRI SUNIL DUTT, MINISTRY OF YOUTH AFFAIRS AND SPORTS, GOVT. OF INDIA, 2005-06.
RECEIVED BEST ACTIVE NSS OFFICER AWARD IN NIC CAMP, JMI, NEW DELHI, THROUGH GOVERNORS AND GOVT. OF NEW DELHI ( 2004-05), HIMACHALPRADESH (2014) & RAJASTHAN (2014) AND ANDHRA PRADESH (2011).
RECEIVED BEST ACTIVE TEAM CONTINGENT LEADER IN INDIA DURING NSS MEGA CAMP HELD AT RAJASTHAN DURING 2014-15.
FELICITATED BY MINISTRY OF SOCIAL WELFARE DURING JANMABHOOMI - MAVOORU PROGRAM IN JULY 2017 AND JANURY 2018 FOR ACTIVE INVOLVEMENT DURING JANMABHOOMI - MAVOORU ACTIVITIES AND PLANTATION PROGRAMS.
Contact Details:
EMail:
msudhakar@rvrjc.ac.in
maddinenisudhakar.nss@gmail.com
Phones:
+91 8632288254
Ext:
530
+91-9490750001